Some of my drawings are also available as signed art prints in limited edition.
Just ask for motifs, because I always show only a small selection here.
At the moment there are 6 different first editions available as print.
The motifs are shown below.
Steiner Tor – Krems
The Steiner Tor is a landmark of Krems a. d. Donau, my hometown.
I spent my childhood and youth here between the old town, the Danube and the vineyards. I moved away for my studies and returned last year after a felt eternity.
Finally, home again.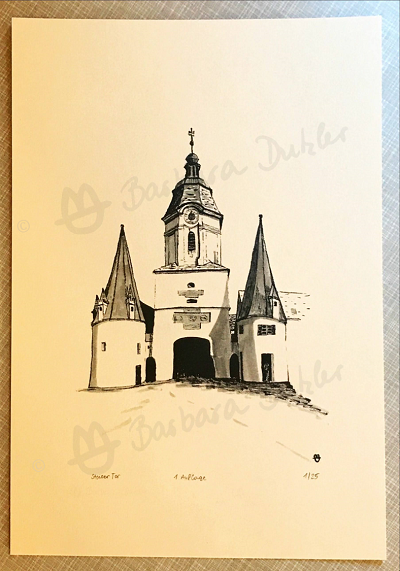 Rebentor – Stein a.d. Donau
From the Rebentor in Stein you have a wonderful view of the famous Frauenbergkirche. In this neighborhood you can also find some wine taverns (Heurige). Among others, also my then favorite one, where we celebrated the passing of our final exam of the technical high school. This also marks the end of my first phase in Krems.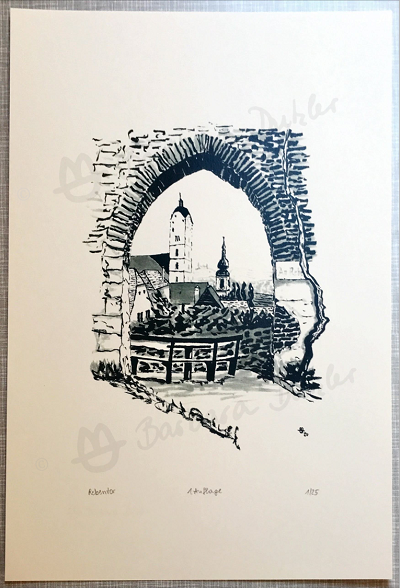 Schwammerlturm – Leoben
The "Schwammerlturm" (lit. Mushroom tower 😉) is one of the landmarks of Leoben. I went there to study at the Mining University. It was a very special experience. A lot of Tradition, many friends, some student parties, networking and an education for the future are key words I associate with this period. My time in Leoben was a distinctive phase of my life that I do not want to miss.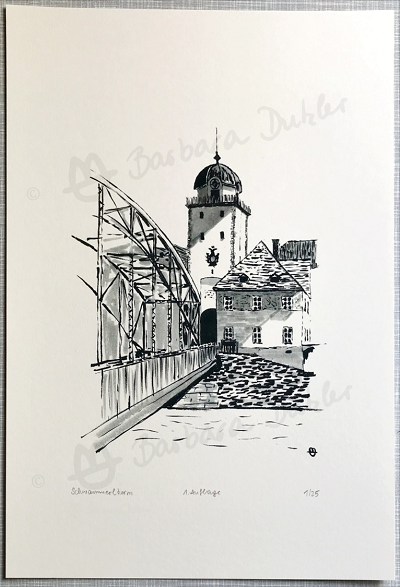 Dürnstein
This is the view of Dürnstein, when you are standing at the most beautiful beach of the Danube in Rossatzbach. There usually a small ferry is bringing bicyclist to the other side and a small snack bar is providing food and drinks to the people at the beach. At exactly this place, my husband and I celebrated part of our wedding day. This is a very special place to me. 😊
Weissenkirchen
I really like spending time in nature, especially when I can hike together with my husband. During these corona-driven times such moments are more than needed. It feels even better, when exploring the region around our home using the Wachau World Heritage Trail. The first two stages bring you from Krems via Dürnstein to Weißenkirchen. The heart of the Wachau valley. ❤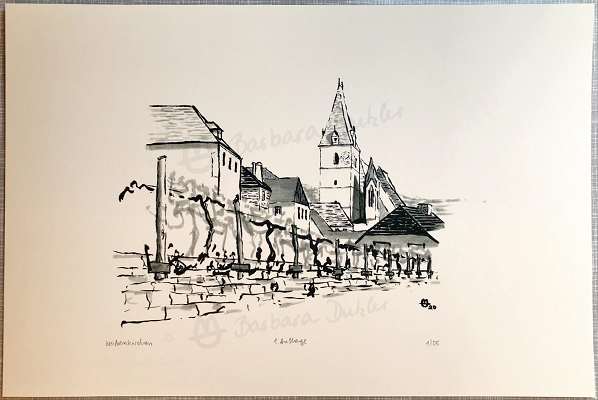 Rotes Tor – Red Gate
If you continue your hike on the Wachau World Heritage Trail you will come to Spitz. The first glimpse of this town you will get at the Red Gate or also called Sweden Gate. This is a very famous motif and a great place to rest, to eat a snack and to be lost in thoughts. From here it is only a small stone's throw downhill through the vineyards to the centre of Spitz. There you can enjoy a glass of Grüner Veltliner from the "Tausendeimerberg" (Hill of a Thousand Buckets) or a delicacy of the famous "Wachauer Marille" (Apricot).